Schisandra
is a plant native to the forest of China and the Russian Far east. The berries of this plant is said to possess the 5
basic flavors namely salty, sweet, sour, pungent (spicy), and bitter. This is why it is sometimes called "
"five-flavor berry"
. In
Chinese medicine, it is used as an astringent for the Qi of the lungs and kidneys.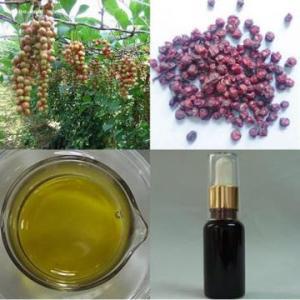 Specifications of products:
| | |
| --- | --- |
| Items | Specification |
| Product name | schisandra chinensis oil |
| Color and odor | brownish yellow liquid with sweet aroma |
| relative density | 0.938—0.953 |
| Refractive index | 1.498—1.503 |
| main ingredients | Citral, eugenol, cineole |
| Conclusion | Pass |
Benefits & Functions :

Produces stimulation to all levels of the central nervous system;

Affects both the excitatory and inhibitory processes of cerebral cortex to therefore bring balance;

Stimulates the respiratory system. antitussive and expectorant;

Lowers blood pressure;

Promotes the discharge of bile, lowers serum transaminases, and protects liver cells;

Enhance the body's defense capabilities to non-specific stimulation;

It has immunity-improving, anti-oxidation, and anti-aging effects;

Inhibits bacteria.

Main Application:

Commonly used for medicines to help treat night sweats, polydipsia, frequent urination, urinary incontinence and premature

ejaculation because it tonifies kidney and promotes the secretion of body fluid.