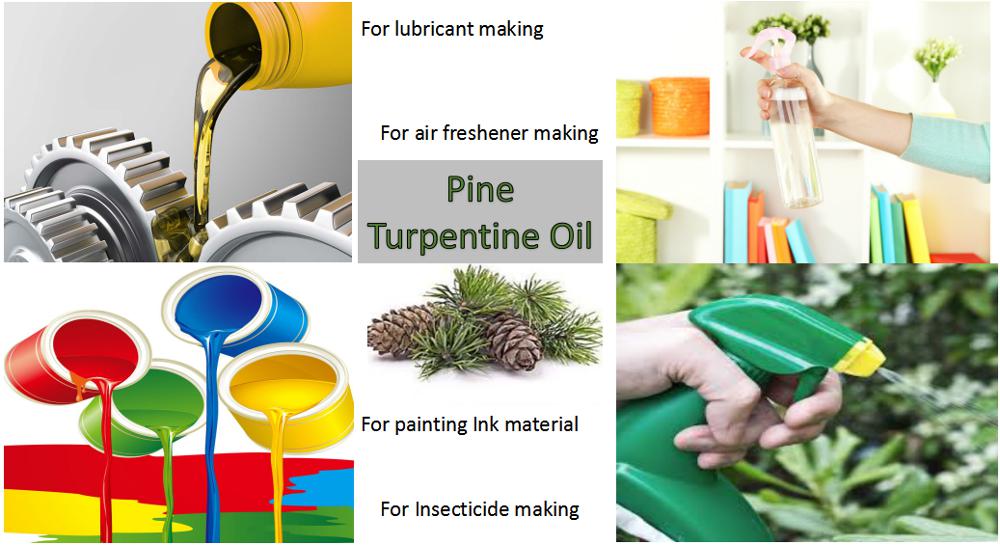 Pine turpentine oil is a derivative of turpentine obtained by steam distillation of the species Pinus.
turpentine oil has a strong piny odor and is miscible with alcohol. Turpentine oil contains alpha-Turpentine oil plus other cyclic terpene alcohols and terpene hydrocarbons.
Turpentine oil is a naturally occurring monoterpene alcohol that has been isolated from a variety of sources such as cajuput oil, Turpentine oil, and petitgrain oil. There are three isomers, alpha-, beta-, and gamma-Turpentine oil, the last two differing only by the location of the double bond. Turpentine oil is usually a mixture of these isomers with alpha-Turpentine oil as the major constituent.
Specifications of products:
| | | |
| --- | --- | --- |
| 1. | Appearance: | Colorless to light yellow liquid |
| 2. | Odour: | Eugenol aroma and spicy bitter |
| 3. | Relative density: | 0.850-0.870 |
| 4. | Refractive index: | 1.466-1.477 |
| 5. | Boiling Range: | 154 - 170 ºC |
| 6. | Solubility: | 1ml soluble in 2ml 70% ethanol |
| 7. | Heavy metal: | Negative |
| 8. | Content: | containα-β- pinenenot >90% |
Benefits & Functions :
Helps treat psoriasis,pimples,eczema;
Reduces inflammation of gall bladder &incidence of gallstones;
Stimulates frequency&quantity of urination;
Good remedy for joint pain,arthritis& inflammation;
Improves metabolism &eye health;
Aids cough&cold;
Main Application:

Washing, fabric dyeing and paint, varnish, oil and other solvents