Product Description:
Spearmint oil
Spearmint oil is extracted by steam distillation of flowering tops of the spearmint plant, whose scientific name is Mentha Spicata. The main components of this oil are Alpha Pinene, Beta Pinene, Carvone, Cineole, Caryophyllene, Linalool, Limonene, Menthol and Myrcene.
Although its aroma is similar to that of peppermint, due to the presence of menthol, its menthol content is negligible as compared to that of peppermint oil. Spearmint oil has been a substitute for peppermint when it is unavailable, and possesses similar medicinal properties, due to the presence of similar compounds in its essential oil. Instances of its use in ancient Greece have even been found in historical records.
| | |
| --- | --- |
| Items | Specification |
| Product name | spearmint oil |
| Color and odor | Pale yellow to yellowish green liquid |
| relative density | 0.920—0.937 |
| Refractive index | 1.485—1.491 |
| Specific rotation | -45°— -60° |
| Solubility | Soluble in 75% ethanol |
| Carvone content | more than 80% |
| Conclusion | Pass |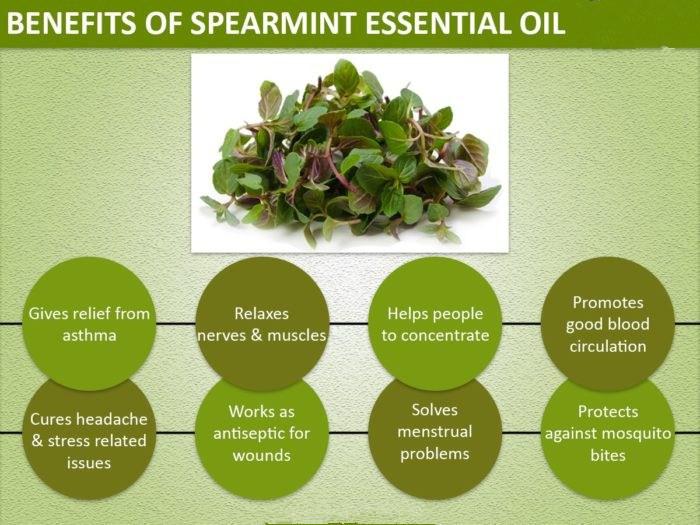 Spearmint Oil Benefits & Functions:
Gives relief from asthma;
Relaxes nerves & muscles;
Helps people to concentrate;
Promotes good blood circulation;
Cures headache & stress related issues;
Works as antiseptic for wounds;
Solves menstrual problems;
Protects against mosquito bites;
Spearmint Oil Main Application:
1.used in alternative medicine for digestive complaints, including flatulence and diarrhea
2.can be added to teas or blended into herbs, but must be diluted first
3.used for scalp sores or scaly skin
4.used in flavoring of chewing gums, tooth pastes, etc.
5.in confectionery, perfumes, cosmetics, etc.